Online campaign for SUBARU
Purpose: Promote car sales
Tools: Wide media campaign using 29 websites (including master pages of three leading portals) and hundreds of pages throughout the case ad network.
– Posting special pages devoted to Subaru price offers on various special web projects covering the potential audience.
– Contextual advertising through Yandex Direct, Google AdWords, Begun, etc.
Result: achieving media indicators, like impressions and clicks, ahead of schedule.
Banner advertising of Sony headphones
Client: Sony Electronics
Brand: Headphones
Objective: Conduct a bright, vivid, colorful campaign to advertise the Sony headphones, to demonstrate their uniqueness.
Tools: Advertising on websites of three categories: social networks, musical websites, and websites of common interest.
Result: Largely due to the use of very successful and creative ideas, as well as properly chosen advertising websites, the campaign demonstrated exceptional results. Indicators exceeded target values in all advertising positions without exception.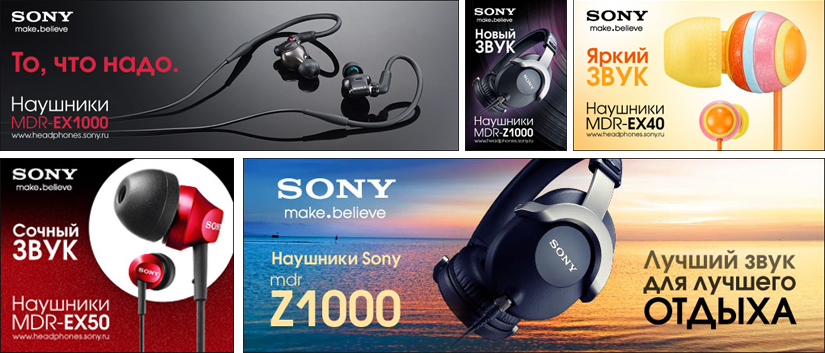 Banner advertising campaign for the website foto.ru
Client: Foto.ru
Brand: Fujifilm, Canon, Nikon
Objective: promotion of website Foto.Ru to ensure increased sales of photo cameras
Tools: advertising on specialized websites of the RuNet using broad format positions and positions with large, eye-catching advertising format.
Main idea: cover a large-scale audience potentially interested in cameras and photography.
Result: Significant coverage of audience interested in photographic equipment leading to an increase in the website Foto.Ru traffic.
Special project on quto.ru
Client: Subaru
Brand: All models
Purpose: Promote car sales
Description: A special Subaru project was created on the platform of the car website Quto.Ru. The project presented detailed information on all models of Subaru cars, dealers, news, and special offers. Also, a car photo gallery, videos, and reviews were posted on the website. Information was constantly updated. The audience attention was effectively attracted to this project.
Result: The result exceeded forecasts by almost three times.
Special project of the SONY VAIO F-series
Client: Sony Electronics
Brand: Sony VAIO F
Purpose: Promote VAIO F sales, focusing on the features of this laptop, positioning it as an ideal model for photographers since the laptop combines mobility and high performance sufficient for working with photos.
Tools: Creating special project on the website dedicated to pictures.
Description: In order to demonstrate the capabilities of the Sony VAIO F laptop, a special educational project was created on the platform of a photo website revealing the secrets, or the tricks, of processing photos in the Photoshop picture editor. In this project, special information blocks were implemented describing the advantages of a Sony VAIO laptop based on Intel processor. Thus, the main purpose was to convince the consumer that when using a powerful VAIO F laptop with Intel processor for photo editing, efficient and comfortable working in the Photoshop will produce excellent results.
Result: The project was very popular among the target audience. For example, during the project operation, more than 500 photos were received from the audience.

Special project of SONY VAIO C-Series
Client: Sony Electronics
Brand: Sony VAIO CA
Objective: Conduct a bright, colorful, spectacular campaign advertising Sony VAIO color laptops of CA series.
Tools: Posting information on women's websites including articles using non-standard formats.
Result: The excess of the planned indicators. Bright image effect.

Contextual campaign on Yandex.Direct
Client: Alain Charles Publishing
Brand: American InterContinental University
Objective: Increase the number of Russian students wishing to get a second degree in interior design, business or fashion in England, at the American InterContinental University.
Tools: advertising and posting information on a website devoted to additional education in business.
Description: An advertising campaign was conducted at the request of our British colleagues aimed at increasing the number of Russian students applying at the University of the client.
Result: Planned figures for visits to the page containing the training application form were considerably exceeded.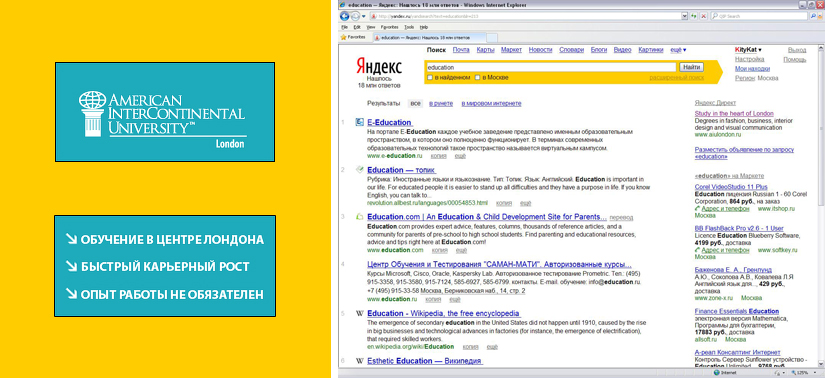 Yandex.Direct and Google Adwords contextual campaign
Client: Babyboomers
Brand: Babyboomers.ru
Objective: Increase the website awareness and site traffic.
Tools: Yandex.Direct and Google Adwords context tools.
Main idea: Attract the target audience to the website babyboomers.ru using the audience interest in information about childbirth, children, education, etc.
Description: Hundreds of keywords and advertisements were created on the basis of the website content. Further, as material was added to the website, more keywords and advertisements were created. This approach ensured close connection between the changes introduced to the website and the campaign settings.
Result: The website traffic was increased at an exceptionally low cost per single visitor.